Shining a Light on Creating Community: TCU Cultural Orientation Classes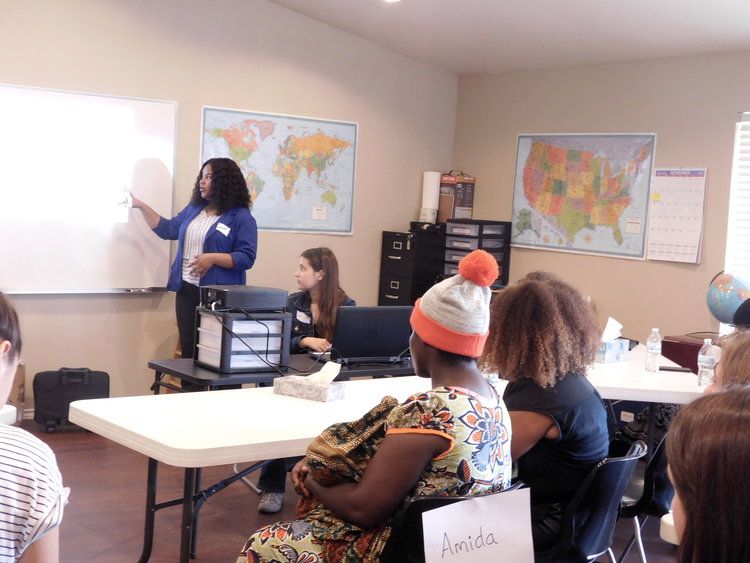 Several groups of women sit huddled around fold-out tables at the Ladera Palms Apartment Clubhouse in Fort Worth, Texas. They are whispering amongst each other, asking questions, laughing and smiling at one another in between a presentation on dental hygiene. These women have made the treacherous journey to the United States as refugees. They are from Somalia, Sudan, the Democratic Republic of the Congo, Syria, and Eritrea. They speak multiple languages and are now in the process of learning English with the help of Refugee Services of Texas' (RST) ESL classes. Many of these women have spent years living in refugee camps in neighboring countries many miles away from the only homes they had ever known. They have stories of heartbreak and tragedy, of triumphs and successes, and they are leaders and builders of their new communities in Texas.
These women have gathered at the Clubhouse at the Ladera Palms Apartments for an extended Cultural Orientation class that covers everything from how to ride the Fort Worth Public Transportation system to the nearest hospital, to navigating Medicaid in Texas. The idea to host an extended Cultural Orientation — specifically for female clients — was born out of a grant that Texas Christian University (TCU) received from TCU's Office of Community Engagement. The Office of Community Engagement focuses on integrating service and learning through reciprocal community-based partnerships with the goal of having students engage more directly with the local community. Dr. Margaret Lowry, Intro to Women and Gender Studies Lecturer at Texas Christian University, was able to craft different cultural and health-based lessons with her classes at TCU in order to provide extra guidance and information for RST's female clients. Seeing the direct impact TCU students can have in communities they are often not exposed to as University students, Dr. Lowry decided to partner with RST to provide extra support.
"Oftentimes at TCU we find ourselves in a bubble of university students. TCU wants its students to be more integrated in the Fort Worth Community. Doing this project has helped me learn a lot about other people's lives and my own privilege," says TCU Sophomore Social Work student, Cameron Estrata.
Each of Dr. Lowry's classes took on a different aspect of Cultural Orientation to focus on. Some days the class would study Health and Hygiene, and other days, they would study navigating public transportation. For many of these women who spent years living in refugee camps, access to basic needs and services such as clean running water and electricity were often scarce. It is easy to forget that understanding concepts such as how to operate a shower or stove comes with a large degree of privilege in Western society. Many refugees spend years of their lives living in tents or rudimentary housing structures and for some, a refugee camp may be all they have ever known. Cultural Orientation offers the ability for families to rebuild their lives in Texas by gaining new skills and an overview of American cultural customs. Given the limited time-frame that RST can provide Cultural Orientation, TCU's extended Cultural Orientation came at a time of critical need.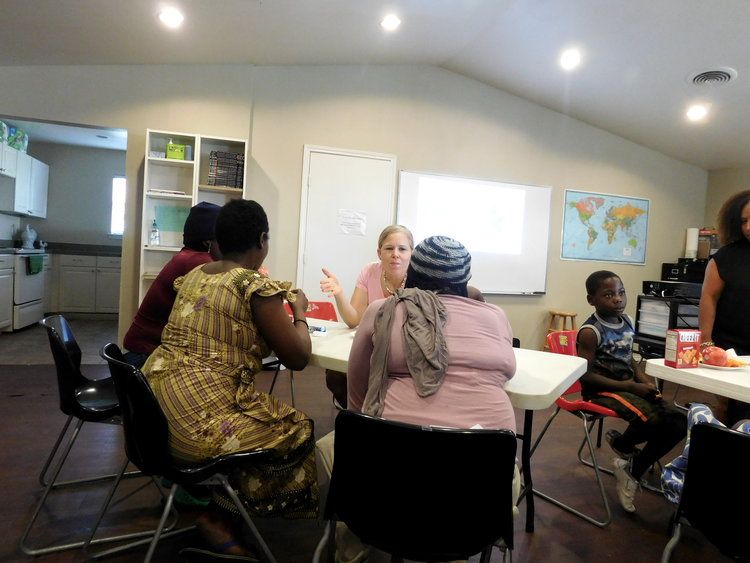 "One thing I have learned from being a part of this project is how difficult it is for refugees to come here. It's awesome to be able to teach them new skills and serve my local community," says TCU sophomore Grant Saxon.
As the presentation comes to a close, the chatter starts back up again between the women and students who share stories over pizza, a new favorite 'American' dish among many of the women. You can overhear stories about coming to the U.S. for the first time, about leaving behind family members and war, and learning how to ride the bus to the supermarket. Some women are quiet and prefer to listen while others laugh and hold multiple children in their laps while protecting their plates from little hands.
For many of the TCU students, arriving at the Ladera Palms Apartments is a walk across cultures and nations. When you first drive in past the gate you see groups of children laughing and throwing around a basketball giggling, chatting in Farsi and Kinyarwanda. The 'Clubhouse' is the beating heart of Ladera, where children come to play, families come to learn and engage with one another, and begin to take a deep breath after arriving for the first time in the U.S.
You can tell many of the students are humbled by the experience of working with refugees. This humbling, however, comes not from pity and sorrow, but from the resiliency and strength these women carry with them like light that illuminates the darkest of rooms. Through these presentations, a new community is formed over stories, understanding, and pizza.