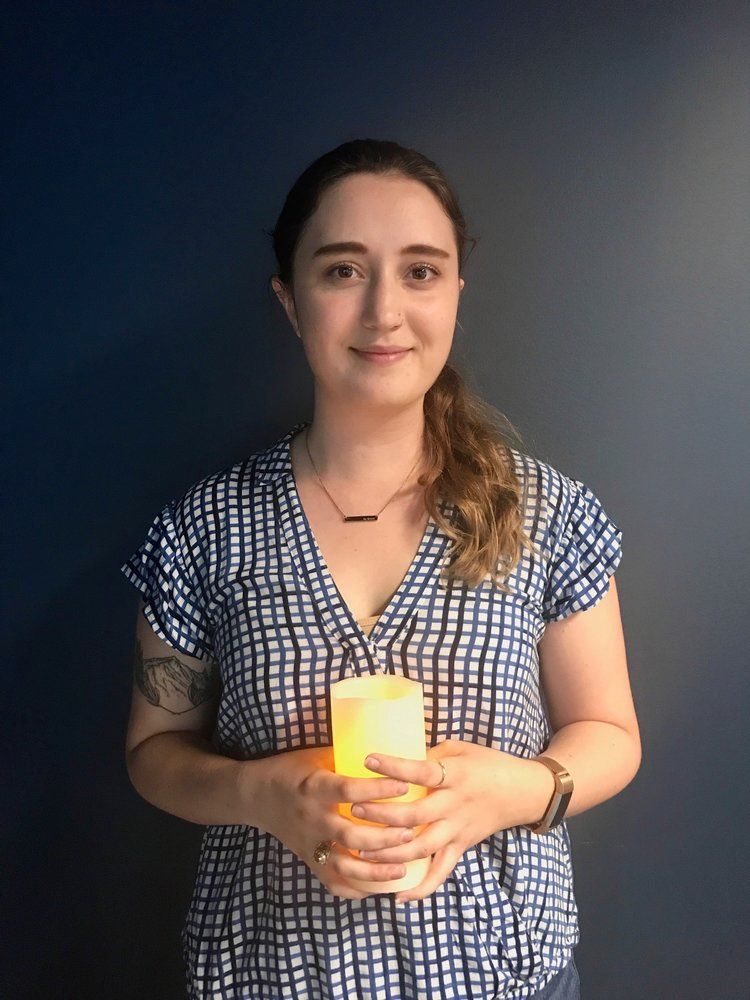 "I chose RST for my internship because I fervently believe in the dignity, agency and sanctity of each human life." say Demi Gnerlich, Refugee Services of Texas' (RST) Bachelors in Social Work (BSW) Resettlement Intern.

"Our country is in such a turbulent and terrifying limbo, and for a lot of people that means pleading and fighting for their inherent human rights. I could go to the [Texas] Capitol and sign petitions and vote all I wanted, but it wasn't the same as being face to face with the populations going through these struggles. I wanted to walk alongside each family to serve as a catalyst for their own empowerment."
Demi is currently studying to get her Bachelors in Social Work at the University of Texas at Austin. Her program requires her to take an internship with an organization to give her "real world" experience in her chosen field. She chose RST.
In the first week or so of starting at RST's Austin office, Demi was still learning the ropes —names, positions, and that there's free coffee in the downstairs office— when the previous RST Austin Volunteer Coordinator, Lauren Rizzo (who is now an RST Austin Employer Relations Coordinator) planted the seed for an incredible idea. Lauren wanted RST to host more women's groups, reaching out to the female clients. She gave Demi some contacts for resources in the Austin community and with that, the brainchild was put into effect. Demi started orchestrating plans to offer RST female clients consistent and much needed supplemental support.

The first Women's Group came together on November 2, 2017. It was a day long event featuring different workshops and activities geared towards female empowerment. The group went under the name "Wonder Woman's Classes."

The first presentation at the class was given by Daniel Lopez, the Community Outreach Coordinator of Capital IDEA. Capital IDEA is a non-profit that provides financial support and extensive professional guidance to motivated, non-traditional students who want increase their earnings and chances of upward mobility in their careers. Daniel explained to the participants the advantages and necessary qualifications of receiving benefits from Capitol IDEA. He also talked about the growing opportunities of IT to encourage the women in attendance to seek education in that field.
After the Capital IDEA presentation, the women were asked to come together to create a name for the group and set a steady schedule for future meetings. "Wonder Woman's Classes" was changed to "Women's Future."
"I love this name," says Demi. "They were engaged enough to choose something that is representative of their journeys. They agreed to this name because they all loved the idea of finding hope and success in fighting for their futures and their families."  

Then Demi asked the women to draw how they feel about living in a new country and the struggles that come with it. Topics of isolation and homesickness were brought up. In the end, the group of women laughed together while chatting and drawing.
 
"Our group activity was a classic social work icebreaker!" Demi says, "I originally made clay at home for the women to create forms of outward expressions of their internal emotional state. However, a lot of the clients we serve come from cultures where anything tangentially related to mental health support or counseling is stigmatized to be shameful. With the cultural connotations in mind I opted to dial it back by having them draw these expressions instead." Demi chose the more conventional outlet of pen to paper, she figured it would be a less intimidating and more familiar tool, and the group might be more comfortable expressing themselves this way. "I encouraged them to participate in the drawing, but they were not required to share outside of their comfort level. We had one client boldly stand up and break down her picture and correlating emotions, but the other women were not quite there yet."

Demi was inspired by her clients when coming up with this activity. "I have had quite a few clients come forward about their silent emotional struggles, and I wanted to create space for them to put that out there and build a community for support instead of the shame." said Demi.
After the group activity, Helen Schafer, the Community Health Educator from Planned Parenthood of Greater Texas, gave a presentation on female anatomy, health screenings, safe sex, and safe family planning. Then the women were invited to participate in "music and mingle," which included music performed by Elaine Barberfrom the non-profit Symphony of Soul and food catered by Chick-fil-a.
What does Demi want to "Shine a Light" on this holiday season? "I would love to shine a light on the incredible resiliency of our clients. They are brave and beautiful and bold; they teach us and help us far more than we could ever serve them. It is a privilege to have our community grow with them as an integral part." 
0 Likes