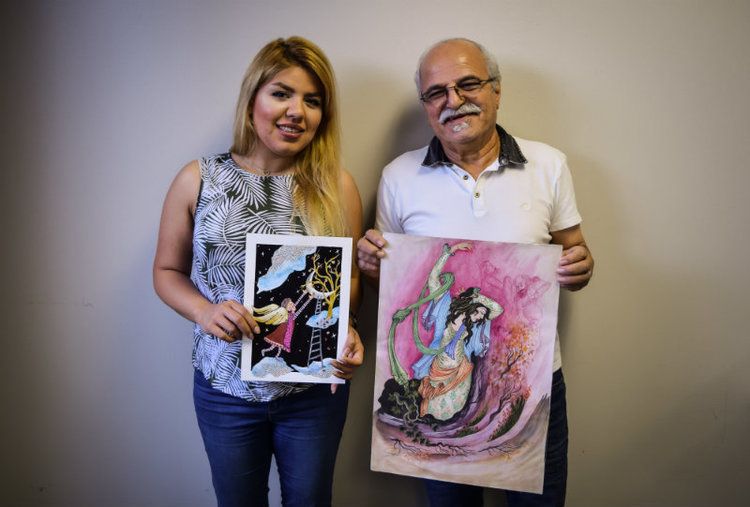 At Refugee Services of Texas, we are dedicated to welcoming refugees, asylees and other displaced peoples. We are so proud to be able to welcome these new North Texas neighbors. We believe new neighbors are a cause for celebration. One way we like to celebrate new neighbors is through sharing culture, stories and art. Join our welcoming celebration by making a donation to Refugee Services of Texas on September 14 for North Texas Giving Day. As part of the celebration, we are sharing the stories of our neighbors.

One story that we are excited to tell is the story of two artists from Tehran. Read their story below.
Niusha and Akbar are more than just father and daughter, they are both working artists and though their artistic styles and goals differ, they mutually understand the relationship between community, culture and art. When Niusha was just 3 years old her parents gifted her with art supplies, a gift that directly lead to her future in art. Akbar also started at a young age, saying that most of his life has been dedicated to his art. Both fell in love with art at a rapid pace and immediately dedicated their lives to it.
When Niusha was six-years-old, she started taking high-level art classes from her aunt and, much like her father, then continued in art school. Though in different professions, both Akbar and Niusha have made their living through their art and hope to continue to do this here in America. 

Niusha has made art more commercially, saying she focuses on the goal of how to communicate with children through art. Back in Iran, Niusha's art was used in commercials and magazines for children. Akbar has taught art and focuses on what he calls his "archive" which is a collection of art he has created. He feels his pieces aren't supposed to stand alone and should always be looked at together. 
Even though the two have approached art differently, they understand the importance of art. For them, art is cultural and impactful. Akbar says his art will always be Iranian and emphasize "peace all over the world." Niusha wants to continue to focus on children and art. The two plan to pursue their art in Dallas, and though Akbar doesn't plan on his art changing, Niusha is embracing the direction that the impact of American culture might have on her work and is excited to see how her art transitions.
________________________________________________________________
Don't forget to join the party and donate on North Texas Giving Day on the Refugee Services of Texas profile.