Adapting to Dallas While Dreaming of Med School
Despite the challenges of adjusting to life in a new country, Mohamed has thrived in school and sports, and still carries his determination to become a doctor with him every day.
---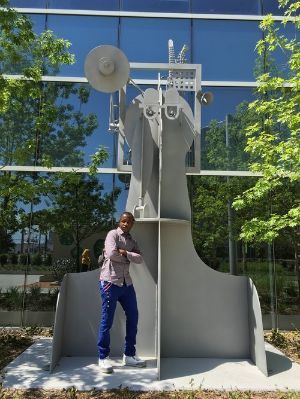 He's 16 going on 17, likes running track and playing soccer, wants to visit New York City, and dreams of going to college to become a doctor. Mohamed sounds like any typical Texas high schooler but for one difference: he's only lived in America for one year. Mohamed, born in Mogadishu, the capital and largest city in Somalia, arrived in Dallas with his family on March 1, 2016.
Resettled by Refugee Services of Texas, Mohamed's age made him eligible to join the Refugee Youth Program. One of the few programs of its kind in the United States, the Refugee Youth Program uses a combination of afterschool and summer activities, group outings, and mentorship to ensure that young refugees are adapting well to their new home. Youth Program Supervisor Brenda Ogershok remembers the first time she met Mohamed, picking him and his sister up for a group outing. She was immediately impressed by his confidence, self-possession, and drive: "He was very eager to continue his education," she recalls, "he wanted to be a doctor".
A year later, Mohamed is still dedicated to his goal of earning a scholarship to attend college and, eventually, medical school. In a typical day, he says, he helps take his younger brothers to school in the morning, then studies for an hour before he heads to school himself. After school, he goes to track or soccer practice - depending on which sport is in season - and studies some more upon returning home. He enjoys studying math at school, and has cited the many educational opportunities he has had through the Refugee Youth Program as a highlight of his time in America so far.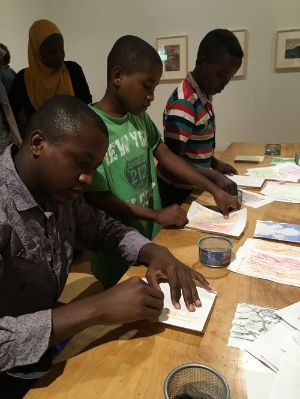 "My favorite memory was during the summer; we had a good program through RST for the refugee students," Mohamed says, citing the summer programming put on by the Youth Program. Running Monday through Thursday, the summer program covered many different facets of American culture in a classroom setting. They also continued to take group outings to experience the city of Dallas: "We went to different places, the museum, every single place, every day we were doing different kinds of activities, taking new adventures, talking about different kinds of culture, knowledge, everything," Mohamed says. His favorite trips were the Federal Reserve and Toyota Stadium, home of FC Dallas.
Learning American culture and studying for school are not the only responsibilities Mohamed has, however; he has simultaneously had to learn how to navigate American bureaucracy and advocate on behalf of his family. "We always express to mentors there's usually a change in family dynamics where a child, especially if they speak English, they're having to sort of absorb a lot of adult roles: translating for their parents, translating documents, doing very adult things," Brenda explains. Mohamed has largely adopted this role in his family, but between his large grin and positive demeanor, it's clear that he's more than willing to help.
Brenda recalls a reflective "ice breaker" question they had posed to the Youth Program participants on one of the first days of the summer program, asking the youth what they would do if they received a large sum of money. Mohamed set aside none of this imaginary money for himself, instead allocating some of the funds for the local mosque his family attends, and using the rest to build medical clinics back in Somalia. "He's just someone who takes care of others," Brenda says, "he's a very selfless, thoughtful, engaged person."