North Texas Giving Day: Umoja Together: A Night of Interwoven Art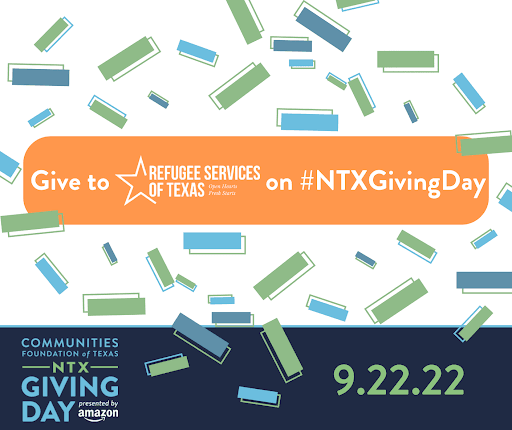 Join RST in our mission of welcoming refugees and other displaced people with compassion and dignity by attending our NTX Giving Day event! Save your spot and please register in advance at the link below.
About this event
Refugee Services of Texas (RST) is proud to participate for the 8th year in the region's largest fundraising day, North Texas Giving Day (NTGD). RST is the largest resettlement agency in Texas serving refugees, asylees, survivors of human trafficking, and other displaced populations. After years of declining arrivals culminating in a record low of 606 new arrivals in FY21, we have resettled more individuals this year than in the past three years combined. This year we have served over 3,000 people and climbing as we continue to welcome Afghans, Cuban parolees, Ukrainians, and other arrivals.
We will remain busy for a long time to come helping people begin a new life in Texas communities. Because of this unprecedented increase in arrivals, Refugee Services of Texas needs your support to continue serving those who come to our door.
This NTGD, we are excited to present Umoja Together: A Night of Interwoven Art. The evening will feature performances including Josh Gallo Lazo, Apex Dance and Performing Arts students, and Psalmony Band, an art auction, food, and drinks inspired by RST's newly released cookbook Plated Stories: Legacies from Home to Table. The event will take place on September 22nd from 6:30 pm-9:00 pm at the Sons of Hermann Hall in Deep Ellum. This event is open to all ages. In concurrence with our in-person North Texas Giving Day event, RST is planning a virtual event and hosting a statewide art auction for those of our supporters outside of Dallas to participate.
Please visit our North Texas Giving Day page or rstx.org to learn more about RST and consider donating to our North Texas Giving Day Campaign! Early giving begins September 1.
Please let us know if you or someone you know might be interested in donating art, volunteering their skills, or hearing more about our sponsorship opportunities for NTGD by emailing Ashley Faye at afaye@rstx.org. We continue to be amazed at our community of support, and we thank you for the many ways you support refugees and other displaced people.