Celebrating Stories: A Storytelling Benefit by Reverie Books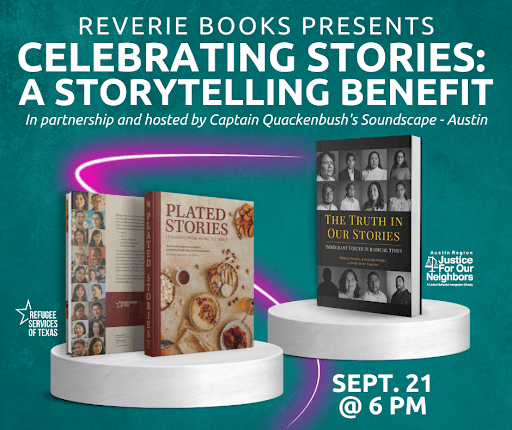 Reverie Books, in partnership with Captain Quackenbush, presents Celebrating Stories: A Storytelling Benefit.
Join us for a night of storytelling and uplifting the stories within two local nonprofits' new books that benefit their work of providing refugee services in Central Texas. Refugee Services of Texas presents "Plated Stories: Legacies from Home to Table," and Austin Region Justice for Our Neighbors (ARJFON) presents "The Truth in Our Stories: Immigrant Voices in Radical Times." Contributors of both books will be present to share their stories and information about the work being done to support refugees and immigrants right here in Austin. The event is free, with an option to donate at the door, but please register in advance at the link below.
Please feel free to contact Kyler with any questions about the event! We hope to see you there.