RESETTLING REFUGEES: THE REFUGEE JOURNEY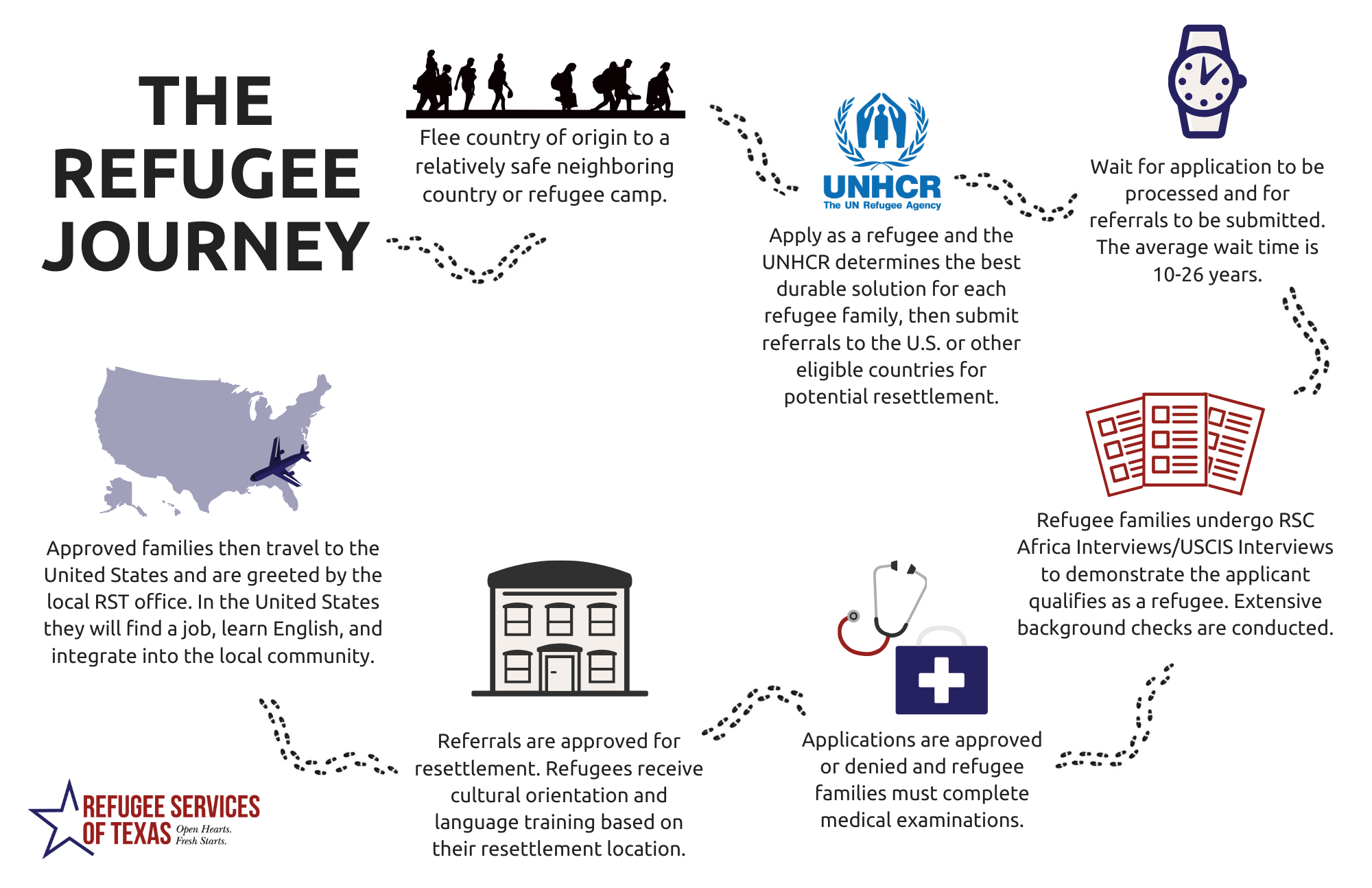 WHO WE SERVE
Refugee Services of Texas serves refugees, asylees, individuals with Special Immigrant Visas, Cuban-Haitian entrants, Central American minors, survivors of human trafficking, and other vulnerable populations. In addition, RST works to facilitate partnerships with host communities to build a welcoming environment.
REFUGEES

Persons who have fled their country of origin and cannot return due to a well-founded fear of persecution due to race, religion, nationality, political opinion, or membership in particular social groups.

ASYLEES

Asylum seekers, or asylees, are persons who have left their home country as refugees and are seeking asylum in another. They must meet the definition of a refugee, but secure their own travel to the United States.

This visa is offered to Iraqi and Afghan citizens who are being threatened in their home countries due to their work with the U.S. military or U.S. contractors. For more information about the SIV program, please visit https://www.uscis.gov/humanitarian/special-immigrants

CUBAN-HAITIAN ENTRANTS

The U.S. government has granted special status to Cubans and Haitians who flee their country to live in the United States. Once they arrive on U.S. soil, they are granted asylum and are eligible for the same services as refugees.

CENTRAL AMERICAN MINORS

Central American Minors come to the United States to escape violence and insecurity in their home countries. Most of these children come from Guatemala, El Salvador, Honduras, and Mexico. Through the refugee resettlement program, these children may lawfully be reunited with their families in the United States.

An Unaccompanied Child (UC) is defined as a child under 18 years of age who has no immigration status and has been separated from their biological parent. While there are UC's from all over the world, children from countries such as Guatemala, Honduras and El Salvador have arrived at the Texas border through Mexico in record numbers in recent years. By law, the United States Health and Human Services department must provide for the custody and care of these children unless a sponsor can be found while they go through the immigration process. Less than 10% of UCs receive post release services.