World Refugee Day 2021
We're celebrating World Refugee Day BIG this year for the whole month of June!
Check out all of our in-person and virtual events happening at all of our sites across Texas that you and your community can be a part of!
---
AMARILLO
Sunday, June 27, 2021 |  7:00-8:00PM
A World Refugee Day Celebration with the Amarillo Symphony!
more details coming soon!
---
Austin
In partnership with the Austin Refugee Roundtable, RST will host both live and streaming events throughout the month of June! 
Check out our LIVE events (in-person and virtual) that you can register to be a part of below:
Missed the conversation?! Watch this incredible interview by clicking on the link above!

Join RST and the Austin Refugee Roundtable for an in-depth discussion with young refugees and volunteers!

Join the Austin-based comedian, Ramjaane Niyoyita, for an evening filled with humor and reflection on what it's like to be a Rwandan immigrant in our community.

Join our live panel discussion with a Refugee, Special Immigrant Visa (SIV), Survivor of Trafficking (SOT), and an Asylum Seeker to learn about the unique differences each refugee experiences in the United States.

It's a World Refugee Volunteer Day with the Multicultural Refugee Coalition at New Leaf Farm! New Leaf Agriculture offers refugees from traditional farming cultures the chance to reconnect and grow in a trade that they are already passionate about. Volunteers help the refugee farm crew in building out our twenty-acre regenerative farm.

Juneteenth Panel Discussion: Learn the History, Significance and Celebration of Juneteenth with Simone Talma Flowers and Dr. Kazique Jelani Prince

Join us on Saturday, June 19th at 10:00AM CST for our Saturday Book Club featuring Somewhere in the Unknown World by Kao Kalia Yang.

All over this country, there are refugees. But beyond the headlines, few know who they are, how they live, or what they have lost. Now, with nativism on the rise, Kao Kalia Yang—herself a Hmong refugee—has gathered stories of the stateless who today call the Twin Cities home.

In Yang's exquisite, necessary telling, these fourteen stories for refugee journeys restore history and humanity to America's strangers and redeem its long tradition of welcome.

Benz Adriano, survivor of human trafficking and intern at Refugee Services of Texas, will be serving a native Filipino dinner including: vegetarian fried rice, hand-made eggrolls, Filipino pork kabobs, and a very special dessert!

Refugee Services of Texas will also be introducing our cookbook currently in production, Plated Stories: Legacies from Home to Table, featuring stories and recipes collected from refugees, trafficking survivors, and asylum seekers. Book contributors Ivana Ilic of Facebook and Ahmed Abbas of RST will also speak about their experiences as a refugee and asylum seeker, and what recipes they added to the Plated Stories cookbook!

Tickets: $25
seating limited, to-go orders also available!

6/24 | TBD What's Your Why?

Panel Discussion with refugee resettlement volunteers to learn their "why" about volunteering, donating and serving the refugee population in Central Texas!

6/27 | TBD What's in a Word?

What's in a Word? A Roundtable Discussion with Language Interpreters!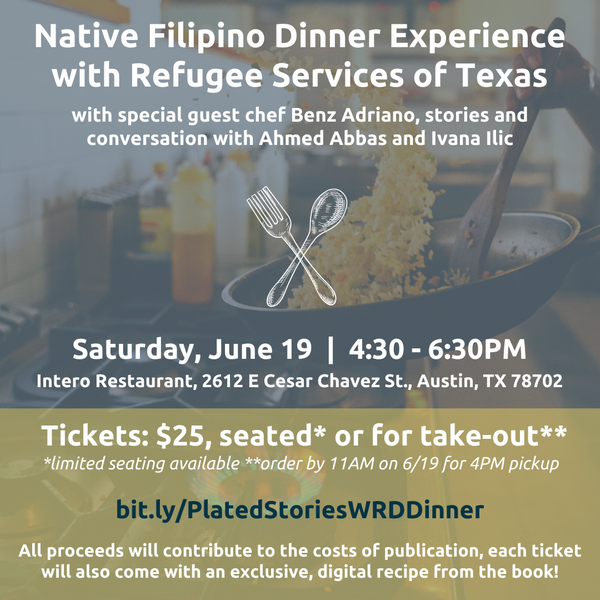 ---
Dallas + Fort Worth
SATURDAY, JUNE 19  |  11AM - 1PM
Join Refugee Services of Texas on Saturday, June 19th at Thanks-Giving Square between 11AM - 1PM* for a World Refugee Day Celebration!
Meet some of the amazing RST staff, enjoy LIVE jazz music and grab some fun summer swag for a great cause! Baked goods and drinks will also be for purchase from our friends at BeKinder Coffee - all proceeds will go to RST!
World Refugee Day Mayoral Proclaimation reading at 12:00PM!
Make it a fun family event, grab a couple of friends and enjoy this FREE event - we can't wait to see you there!
*RSVP encouraged but not required- come and go as you wish, limited capacity!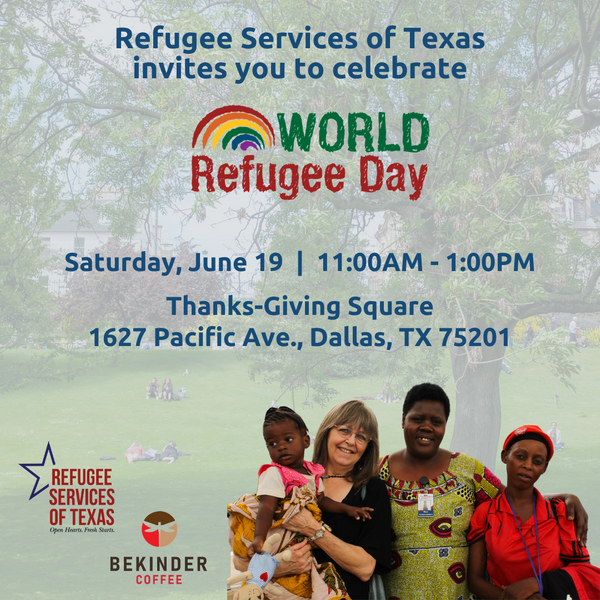 ---
Houston
SUNDAY, JUNE 20  |  3PM - 6PM
RST Houston is celebrating World Refugee Day on Sunday, June 20th with Rafael Nasr, Peruvian-Lebanese-American, and owner of Craft Pita, who will share his expertise in the kitchen and share more about how he's helping serve the refugee community!
We'll also introduce you to and hear stories from local Houston friends Dr. Khawaja Azimuddin, Pakistani refugee and author of The Boy Refugee, Afghan refugee and RST employee Naqibullah Laghmanai, and Natasha Djuich, refugee of the former Yugoslavia.
Join us on World Refugee Day at Craft Pita in Houston to celebrate culture through fine food, hear incredible stories and enter into our fun giveaways... 15% of all sales will go to serve RST!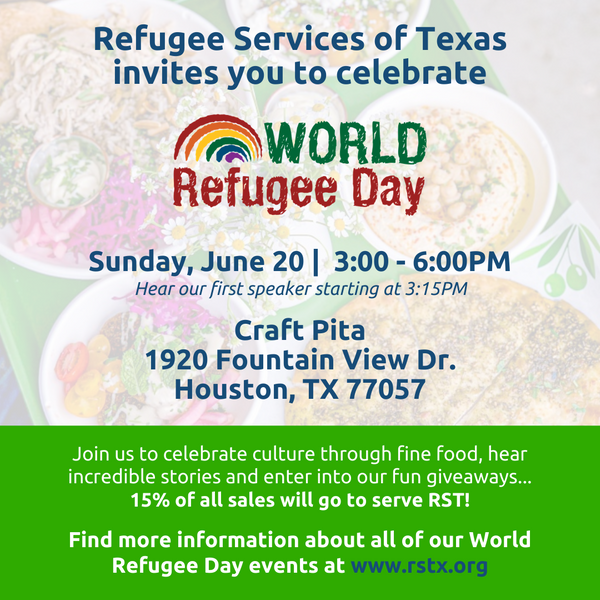 JUNE 13 - JUNE 20
The Houston Refugee Consortium will host World Refugee Day celebrations throughout the week of June 14-20 to recognize the refugee experience and tell the stories of refugees who call Houston home. All events will be held virtually through the World Refugee Day Houston social media accounts on Facebook (@WRDHouston) and Instagram (@houston4refugees).
World Refugee Day is hosted by the Houston Refugee Consortium which includes The Alliance, Bilingual Education Institute, Catholic Charities Archdiocese of Galveston-Houston, Interfaith Ministries for Greater Houston, Refugee Services of Texas - Houston and YMCA of Greater Houston in partnership with Plant It Forward, PAIR-Houston, Houston Public Library, Houston Grand Opera, Houston Symphony, Amaanah Services, Hope Clinic, FAM Houston, Houston ISD, Holocaust Museum Houston, and the City of Houston Office of New Americans and Immigrant Communities. Houston has been a leader in refugee resettlement, welcoming more refugees than any other city in the United States. Since 1978, refugees have been rebuilding their lives in Houston and contributing to our city in many ways. We honor and celebrate their strength and perseverance on World Refugee Day.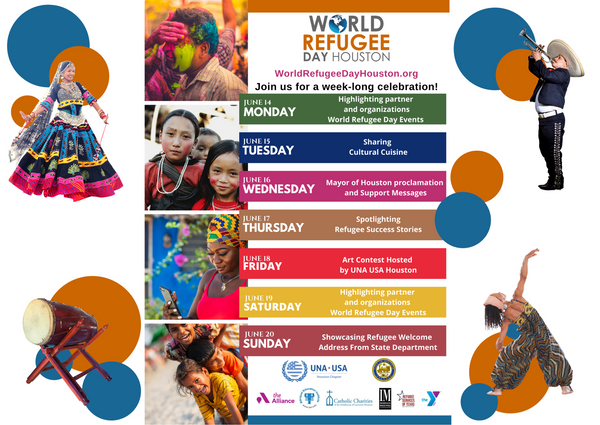 ---
Celebrate World Refugee Day all month long- check out our downloadable content including kids' activities, cooking demonstrations, language lessons and more that are ALL family friendly!