Thank you so much for your interest in donating to RST! We strive to welcome each client with dignity and believe our clients deserve the best (especially after all they have been through) so purchasing from one of our online registries is one of the best ways to support our families directly. If a registry is disabled, it may be because that location has limited storage space. In that case, visa, hotel, and grocery store gift cards are a great option and can be delivered directly to a local RST office. Thank you so much for joining us in welcoming and supporting refugees, asylees, and survivors of trafficking across the great state of Texas.
AMAZON WISHLIST & ONLINE REGISTRIES
You can help ensure that newly-arrived refugee families and survivors of trafficking feel welcome and at home in their new lives by purchasing items from our Amazon Wishlists and other online registries. 
Find your local service site's wishlist below* and have the items shipped to the office - it's that easy!
AMARILLO | AUSTIN | DALLAS | FORT WORTH
HOUSTON | RIO GRANDE VALLEY | SAN ANTONIO
*Alternatively you can search for Refugee Services of Texas on Amazon. Simply visit the Amazon List or Registry search page and sign into your Amazon account. Select the drop-down menu under "Accounts & Lists", choose "Find a List or Registry" and search for Refugee Services of Texas. *Searching for the list on the main search bar will only result in products, not wishlists*
AMAZON SMILE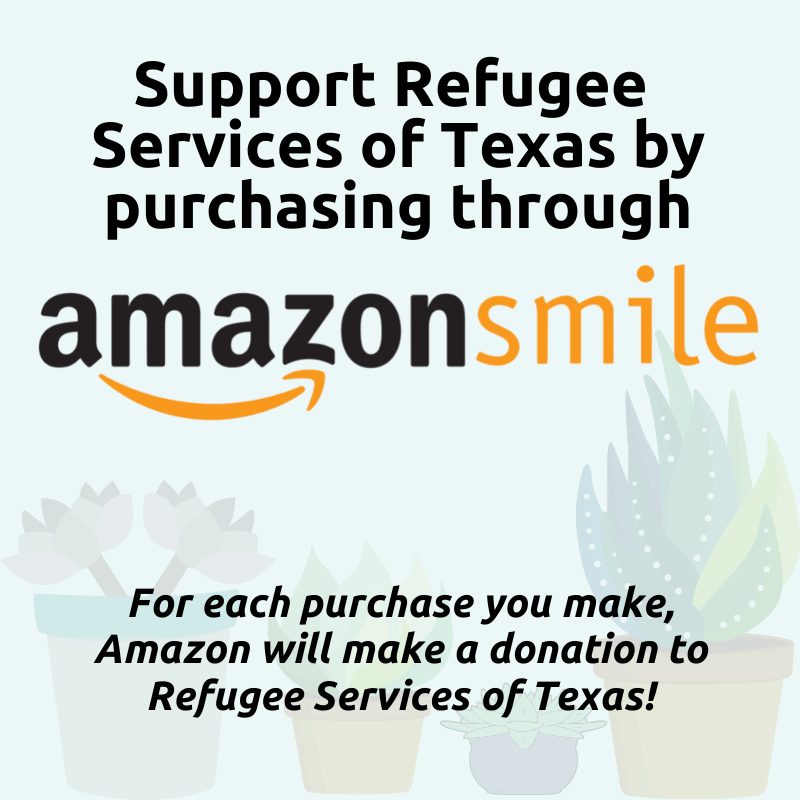 AmazonSmile donates a portion of the proceeds of each sale to a charitable organization of your choice. Just log-in through www.smile.amazon.com, select Refugee Services of Texas as your favorite non-profit, and enjoy your shopping knowing that you'll be giving to RST!
---
IN-KIND DONATIONS
In-kind donations assist newly and recently-arrived refugees, asylees and survivors of trafficking. Our clients' needs are diverse and many: learn which in-kind goods are of the highest need in your community by contacting your local RST office!