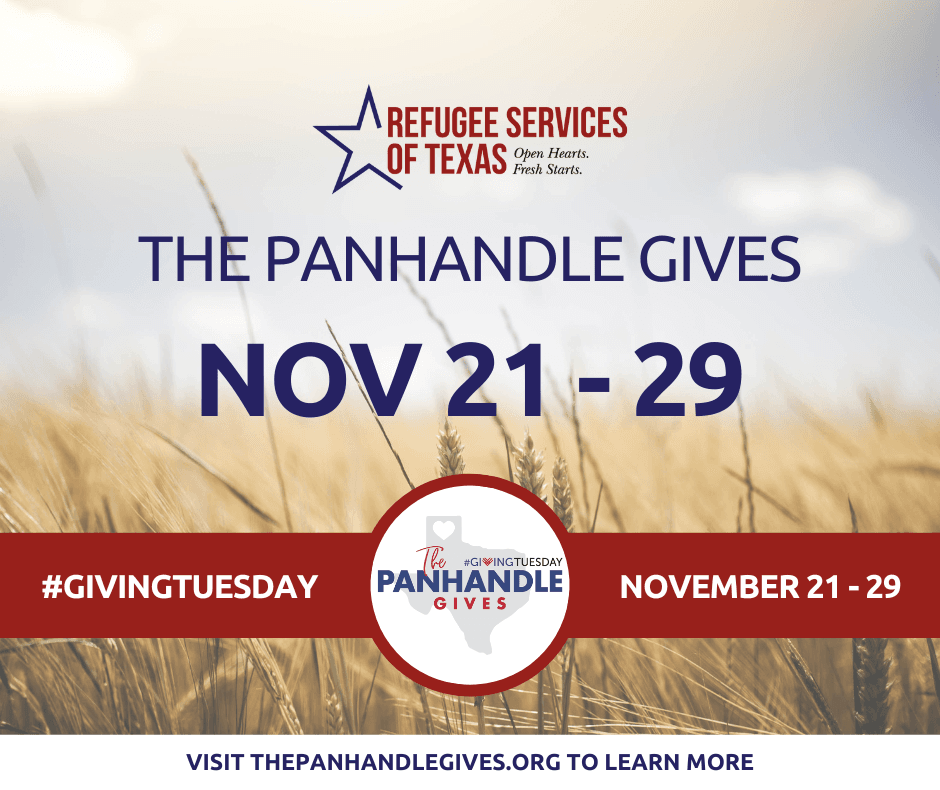 Here at Refugee Services of Texas, we are busily preparing for our End of Year plans, which include participation in The Panhandle Gives (TPG). TPG is an annual event hosted and coordinated by the Amarillo Area Foundation (AAF). TPG begins on the Monday before Thanksgiving and ends on the global day of giving, known as Giving Tuesday. This year that occurs from November 21st - November 29th.
This is an important time of the year for us.
As you may know, the past year has been extremely busy for us in Amarillo. In the last 12 months, we have served over 230 refugees in Amarillo, many of them coming from Afghanistan during the emergency evacuation. It has been all hands on deck for the last year as we have resettled more than 20 times the number of refugees we helped in the previous year.
YOU made this possible!
As we look forward to the next 12 months, we know that our work is far from over. In fact, we anticipate resettling 100 new refugees over the coming months, and we hope you are as excited as we are to welcome these new neighbors to Amarillo.
Will you rally around us again as we celebrate this holiday season?
Your participation in The Panhandle Gives (TPG) will directly support displaced families transitioning to their new lives in Texas and help us welcome each new refugee with dignity and respect.
You can read more about our mission and make a contribution at the link below.
Thank you to our generous local community partners who have pledged to give!
★ FAVs
★ Asian Spicy Restaurant
★ Bubba's 33