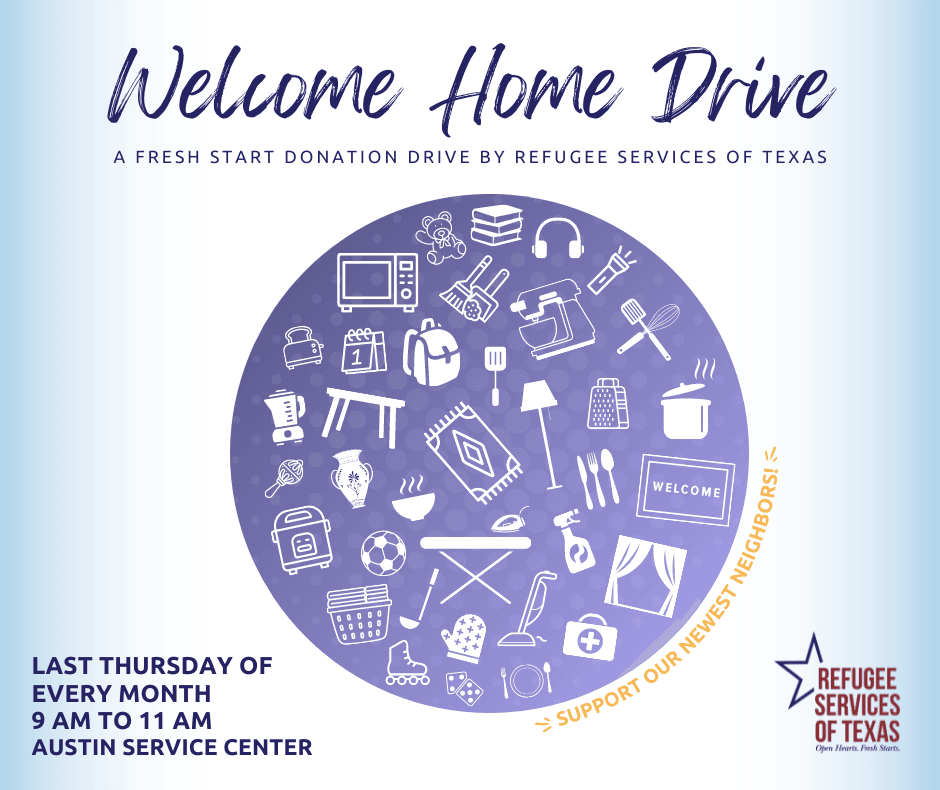 RST Austin is holding a donation drive for families in our community!
Please support our new neighbors by bringing gently used or new household items to the RST Austin Service Center, such as:
➤ Rugs,
➤ Lamps,
➤ Décor items,
➤ Dishes,
➤ Flatware,
➤ Cookware,
➤ Kitchen appliances,
➤ Working laptops/phones (unlocked and with chargers),
➤ New sheets and pillows,
➤ Toiletries set,
➤ Iron,
➤ Clean blankets, and
➤ Vacuums, towels, toys, and suitcases in good condition
**Unfortunately, we cannot accept clothes of any kind or condition. Thank you for your understanding.
Please drop off donations between 9 AM and 11 AM at the RST Austin Service Center and ask for Sayeda or Theanna. Reach out to Sayeda or Theanna with any questions! Thank you.
Sayeda: srasul@rstx.org | 469-599-0356
Theanna: tchantarojwong@rstx.org | (469) 393-0972, ext 816
If you want to contribute but can't make it in person or don't have these items on hand, our Amazon Wish List has our most up-to-date donation needs that get shipped directly to our office! Visit the link below to donate.