Who is an unaccompanied child?

 
An Unaccompanied Child (UC) is defined as a child under 18 years of age who has no immigration status and has been separated from their biological parent. While there are UC's from all over the world, children from countries such as Guatemala, Honduras and El Salvador have arrived at the Texas border through Mexico in record numbers in recent years. By law, the United States Health and Human Services department must provide for the custody and care of these children unless a sponsor can be found while they go through the immigration process. Less than 10% of UCs receive post release services.
WHY DO THEY FLEE?
The majority of unaccompanied children that RST serves come from El Salvador, Honduras, and Guatemala. These children often flee their home country in order to escape trafficking, abuse and gang violence.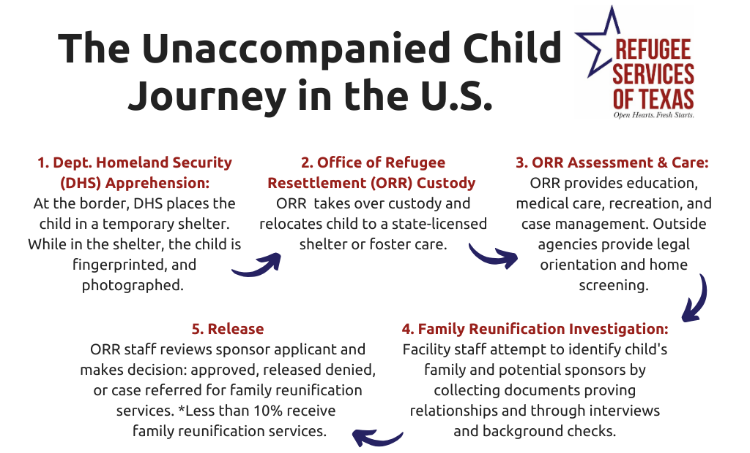 SERVICES TO UNACCOMPANIED CHILDREN
Home Studies

UC case managers conduct home studies to assess whether safe placement of the child with a sponsor is possible upon leaving federal custody. If the home is found to be safe for the child, then the child may live with the sponsor as they wait for court proceedings.

Post-Release Services

UC case managers provide post-release services through advocacy and by providing referrals and ensuring access to: education, advocacy, referrals to supportive counseling, health and legal services for children and their family. RST also provides ongoing assessments of the placement safety and stability, and the child's health and well-being.
How you can serve unaccompanied children
For more information about how you can serve unaccompanied children in your community, please contact our Integration Program Supervisor here!
Find more information about unaccompanied children below: